Dreamcatcher v3.05 Data Radio Kit - END OF LIFE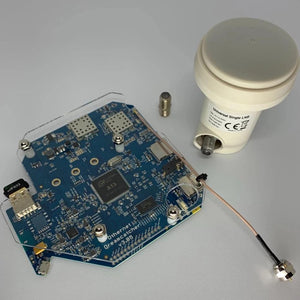 Dreamcatcher v3.05 Data Radio Kit - END OF LIFE
Regular price
$ 99.00
Sale price
$ 49.00
---
Due to operational changes, the broadcast channels are temporarily unavailable. Normal service will return in March 2021. More information can be found on the forums. 
This product will be replaced with a lower-cost, simplified version. The remaining stock of Dreamcatcher 3.05 is available at a clearance price of $49. 
Dreamcatcher 3.05 and the Skylark operating system can still be used for reception of the Othernet data broadcast. However, no additional software updates will be made to Skylark. Any new types of content will only be received and stored as files. Ongoing development of the Othernet receiver will target the ESP32-S2 microcontroller from Espressif Systems. 
This kit includes one Dreamcatcher.
Features:

1 GHz ARM processor
256 MB RAM
WiFi USB dongle, capable of access point and client-modes
13V/18V bias tee to power external LNB
Two microSD slots; secondary microSD for content storage
Dedicated LEDs for packet reception, heartbeat, and power
2.5 PPM high precision TCXO
Secondary button for resetting wifi to AP-mode
Requires 5v/2A via microUSB power source (not included)
Dimensions 12 x 11.7 cm (4.7 x 4.6 in)
Kit Includes:
One Dreamcatcher v3.05 board 
EDUP USB WiFi dongle

 

(Link)
LNB (model may vary)
6-inch F-type-to-micro RF coaxial (u.fl/IPEX)
NO INSTRUCTIONS ARE INCLUDED IN BOX
Operating System Links (microSD card *not* included in kit):
Skylark firmware for satellite data/radio reception
The schematic for Dreamcatcher 3.05 is available here. 
You may also review the User Guide developed by one of our customers.
A helpful community of people who are familiar with the Dreamcatcher: http://forums.othernet.is/
Our satellite broadcast is currently available in much of North America and Europe at a download speed of 10kbps. We broadcast from SES-2 and Astra 3B. 
***The European coverage map is not completely accurate. Germany and Poland have much, much better reception than the rest of Europe. The area outside of central Europe may require small horns to be added to the LNB. These horns can be fabricated with household material. 
Although some assistance can be found on our forums, Othernet provides no direct support for this product. If you are not a tinkerer, hobbyist, or hardware hacker, you may be disappointed with your purchase.
Please allow two business days to receive the email containing your order's tracking information.